Regular price
Sale price
$48.00 USD
Unit price
per
Sale
Sold out
Depending on your sign up date, your first month's WELCOME package might not match that month's MEMBER package. This is very rare and mostly relates to sign ups close to our cut off date. Cut off date is 6 days prior to the 1st of the month. In most cases, it only effects 1 out of 5 cigars, the replacement value of cigars will always be higher. On your second month, you will join all other members. Please see our FAQ for full details.
Share
View full details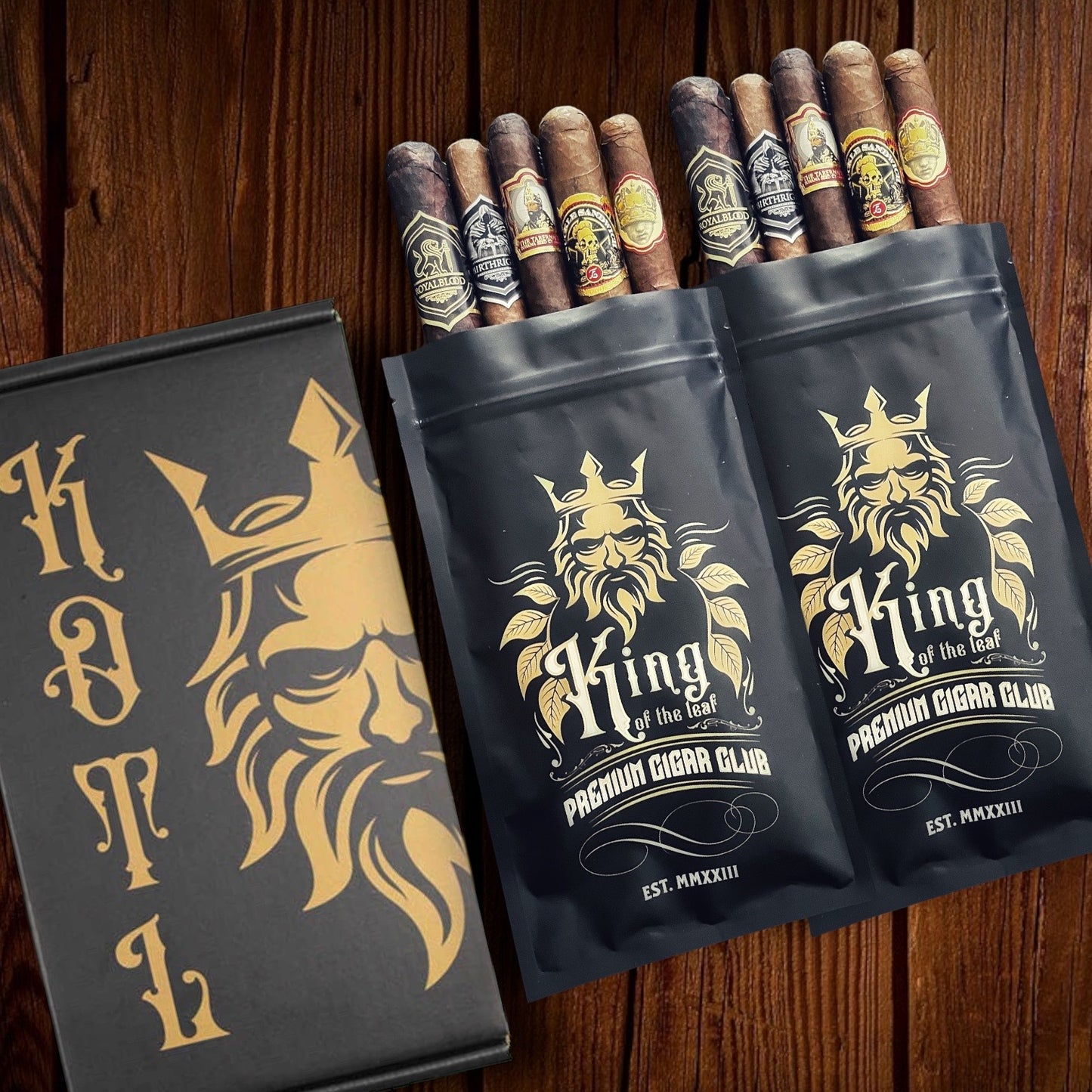 King of the Leaf Premium Cigar Club
KOTL is a Cigar Club designed to satisfy the most demanding of palettes, and the most discerning of cigar enthusiasts. An immersive journey into the extraordinary world of premium cigars. King of the Leaf Cigar Club Members will receive 5 premium, hand-rolled cigars each month. Each selection, an embodiment of our tireless pursuit of excellence, curated by experts who dedicate their days to the ardent exploration of the finest cigars the industry has to offer. Your monthly KOTL Cigar Club pack will include a broad selection of sumptuous cigars from esteemed brands and sought-after boutiques, rising stars, club exclusives, hidden treasures, and beyond.
KOTL Premium Cigar Club is brought to you by the creators of the iconic Cigar Dagger, and this affiliation will feature prominently in KOTL member benefits which include the following:
With your first month's membership you will receive KOTL branded swag and a permanent 15% off discount code for use on kingoftheleaf.com and cigardagger.com.
After a membership of 6 consecutive months you will receive a gift certificate for use on cigardagger.com valued at a full month's subscription rate.
After a membership of 12 consecutive months you will receive "The Official King of the Leaf" Cigar Dagger, The same KOTL that is immortalized in our branding. This Cigar Dagger is an exclusive KOTL Members Only and will not be available anywhere else… in the universe!
Welcome to the Empire.
Please see our terms for detailed info.
KOTL Premium Cigar Club Member Information
What is included in my Membership?

King of the Leaf is a membership-based club which operates on a monthly basis.

KOTL Monthly includes 5 curated premium cigars shipped to your doorstep each month.

KOTL Double includes the same cigars as KOTL Monthly, but you will receive 2 of each cigar. 10 cigars total at a discounted rate.

All memberships include 15% off at our sister site cigardagger.com

All members receive a free KOTL torch lighter and patch in their first welcome box.

All members receive a gift certificate for use on cigardagger.com valued at a full month's subscription rate after 6 months of continuous membership 

All members receive a free official KOTL Cigar Dagger nubber not available anywhere else, after 12 months of continuous membership.
How will I be billed?

Your credit or debit card is billed at the time of purchase, and your first KOTL Premium Cigar Pack is shipped out to you within the following week. 

For subsequent packs your monthly billing date will be on the 1st of each month and your KOTL Premium Cigar Pack will be shipped to you within the week following the successful processing of your payment.

Gift cards cannot be used to purchase KOTL Premium Cigar Club Memberships. Payment must be made with debit or credit card.
How will I receive my cigars?

Cigars are shipped in foil-lined food grade pouches and humidified with boveda packs for maximum freshness.

All KOTL Premium Cigar Membership Packs are shipped via USPS first class mail. Shipping costs will be calculated at checkout at a flat rate of $4.95
Can I cancel my membership at any time?

Memberships can be paused or cancelled at any time via your membership portal which you will receive access to on signup 
Gift Memberships

Your may purchase a KOTL Premium Cigar Club Membership as a gift. During checkout fill out the shipping address of the gift recipient.
Miscellaneous info

Depending on your signup date, you may receive cigars that are different to the regular send out during your first month.

Due to logistics issues, KOTL does not ship outside of the United States or to Utah within the United States.

Membership packs cannot be returned but if your cigars arrive damaged, please document the damage with photos and contact us at info@kingoftheleaf.com